Lac La Biche RCMP haven't ruled out a hate-crime investigation as they look into vandalism to a Rachel Notley political road sign on the outskirts of the Lac La Biche hamlet.
A Nazi swastika symbol was painted over Notley's face on one side of the sign, along with some vulgar language. Devil horns and a tail were also added to the image of Alberta's current premier, and leader of the provincial New Democratic Party.
The sign is located just west of the Lac La Biche hamlet near the Evangelical Free Church.
"It has been reported and we are investigating. Charges that come to mind are mischief — (and) given the fact that there is a swastika on it, it may be considered a hate crime and investigated as such," Lac La Biche RCMP Corp. Roxanne Genereaux told the POST last Friday afternoon.
The vandalism was first noticed by a passing motorist early Friday morning.  The Alberta NDP part was  contacted for comment by the POST on Friday, but no one from the organization has returned calls or emails.
Local NDP candidate Jane Stroud and a party volunteer were in the Lac La Biche community to campaign and clean up the sign on Saturday. While here, they repaired other signs she says have been vandalized.
"The campaign is going well. However, we have had many of our NDP signs run over and damaged. I just hope the people who are doing this realize that they are also leaving deep ruts on municipal property. There will be a cost to the municipality to repair this damage." she said, explaining that some of the damaged signs were lying in tracks of ripped up grass on boulevards. "This is an act of vandalism."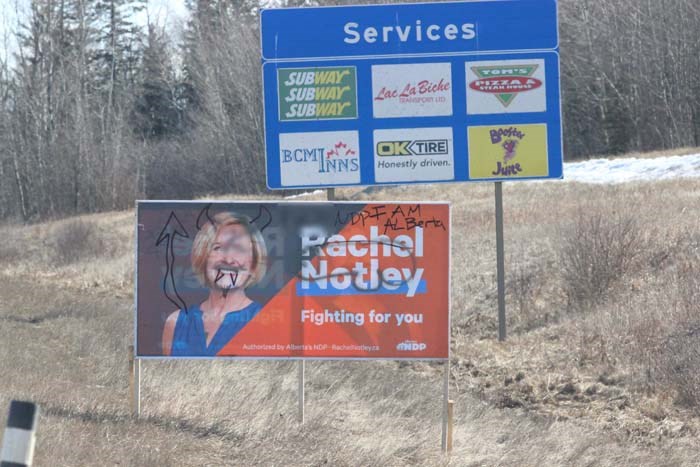 The form of spray-painted vandalism on the large Notley sign on Highway 55 took it to a disturbing next level, she said.
"The swastika is a universal symbol of hate, meant to instill fear and intimidation," Stroud said, disappointed that anyone would show such blatant disrespect to the sign, the community and the democratic process. " Please also think of the example that you are giving to our children."
The hate-tinged vandalism happened the same day Alberta UCP leader Jason Kenney released his plans to combat race-related hate crimes in Alberta.
"Protecting public safety is the first responsibility of government," said Kenney in a statement released Friday dealing primarily with religious-based hate crimes.  "That is especially true for community groups that may be vulnerable to hate-motivated crimes. Here in Alberta, there have been disturbing reports of vandalism to mosques, temples synagogues, and churches. Improvements such as security cameras, fences, gates and other security measures can help protect these communities from violence and vandalism. That is why a United Conservative Party government will, if elected, create a Security Infrastructure Program to provide grants to defray these costs."
The program would hold $1 million per year to make available to religious groups victimized by hate-related crimes.
The Lac La Biche incident was the second across the province in just a few days. An Alberta Party candidate in Calgary had one of her roadside signs defaced with ethnic slurs on March 21. Alberta Party leader Steven Mandel has said he would like that vandalism to be investigated as a hate crime as well.
RCMP say that damaging or stealing signs can also result in Criminal Code charges of theft or mischief being applied. The local detachment is asking the public to report any incidents of vandalism to their office, and say anyone with details on the Notley sign is encouraged to call.
"If anyone has any information in relation to this incident, we would certainly appreciate any information people may have," said Genereaux.
Alberta's provincial election takes place Tuesday, April 16.