One of these days I have to go visit Eddie the Squirrel.
Eddie is a giant fiberglass statue in the RCMP Centennial Park in Edson. Perched on a log with a baby-sized bronze spruce cone in his paws, he has served as the town's mascot for almost 50 years, and is a popular tourist attraction for folks headed to Jasper.
"We think he's the largest red squirrel in Canada," said Shari McDowell, manager of the Galloway Station Museum just a few paces from Eddie.
"It's amazing the amount of people who stop and get their picture taken with Eddie."
Eddie is one of the many big and bizarre roadside monuments scattered across Alberta. There are well over a hundred of them, and you can easily spend a whole summer vacation tracking them down.
If you need a map, check out the one at roadsideattractions.ca, one of the most comprehensive guides to Canada's roadside attractions online.
Former St. Albert resident Mira van Bodegom manages the site, having stumbled upon it 20 years ago when looking for things to do after she moved to Ontario. She has since visited some 200 roadside monuments in Canada, including the Sudbury nickel, the Mundare sausage, the Vegreville pysanka, and the Starship Enterprise in Vulcan.
"People like them because they're fun and they're interesting," she said of these monuments.
"They're all kinds of weird in their own way."
Big things up north
While many of Alberta's big things are clustered around Red Deer, Calgary, and Drumheller, van Bodegom's site lists a fair number north of Edmonton as well. You can find Mozzy the Mosquito (a modified pumpjack) in Rainbow Lake, for example, and a rather large moose in Manning. Peace River has a 12-foot-tall statue of Henry Davis (a legendary local prospector), while Hines Creek sports The World's Largest Railroad Spike.
St. Albert has plenty big things as well, including a spruce cone, a butt-hinge bench, and that mutant wheat-goose-hybrid thing by the Grandin Medical Clinic.
One of the city's oldest big things is the Red Willow Badminton Club's 14-foot-tall badminton racquet, which was commissioned by club manager Jean Folinsbee back in 2000.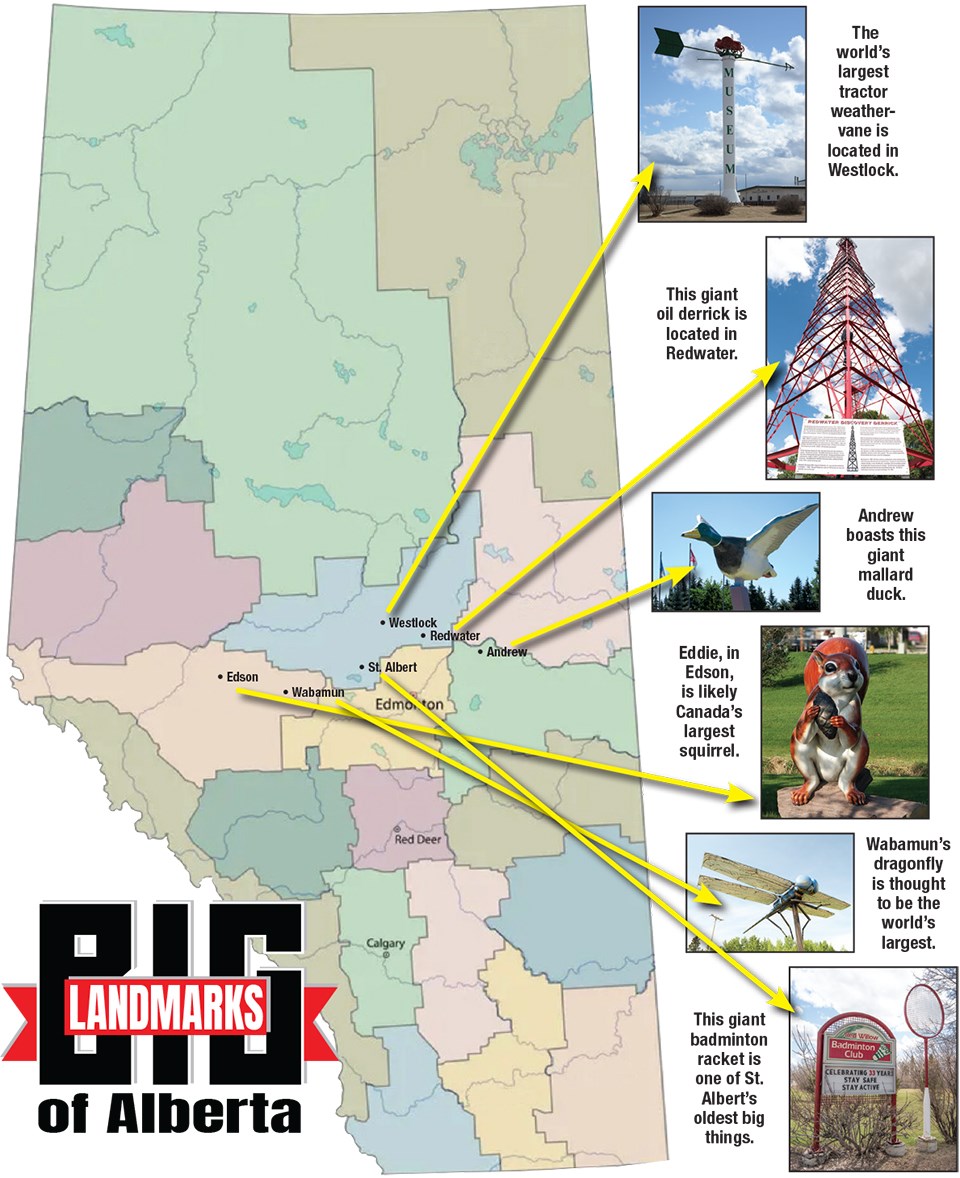 "We had a beautiful sign that said, 'Red Willow Badminton Club,' but someone stole it," she explained, and she and assistant manager Carol Moores got the idea to raise a giant racquet as a replacement.
"Vegreville has the giant Easter egg," Folinsbee told The Gazette in 2000.
"Why can't St. Albert have the badminton racquet?"
Folinsbee said the club commissioned a 225-kilogram scale replica of one of her racquets for $3,500. The club tried to get it into the Guinness World Records as the biggest on Earth, but was unsuccessful, possibly because the racquet has steel instead of nylon strings. Plans for a giant shuttle to go with the racquet never materialized.
While the club would be just as great without the racquet, Folinsbee said it does draw in the occasional tourist, and certainly makes the club easy to find.
"I just say, 'Look for the big badminton racquet.'"
North of St. Albert in Sturgeon County, you can find the Discovery Derrick in Redwater — the original derrick that struck oil back in 1948 and put the town on the map. In addition to its many murals, Legal has Depression Pete, a strange seven-foot skeleton made from car parts in 1971 to promote Coulombe's Welding Shop.
Further north in Westlock is the world's biggest tractor weathervane, which sways in the wind atop a 60-foot pole at the Canadian Tractor Museum. Built in 2006 by volunteers, the weathervane is topped by a 1942 Case tractor donated by community builder Albert Miller, whose $8-million estate now funds the Westlock Community Foundation.
Northeast from St. Albert is the giant duck of Andrew — actually one of two oversized ducks in the community. In an email, Village of Andrew clerk Katrina Dubasov said the bigger of the two ducks (dubbed the world's largest) was built in 1992 to honour nearby Whitford Lake as a conservation site and a major flyway for waterfowl.
"Ducks are an important part of the wetlands because they spread seeds from one ecosystem to another," she said, much as many Andrew residents have relocated there from elsewhere.
"The mallard reminds us of where our village has been and where it will go — forward, together, as a community."
Eddie the Squirrel dates back to 1973 when the wives of Edson town councillors were brainstorming ideas on how to promote their community at the upcoming Alberta Urban Municipalities convention, McDowell said. Millie Crawford (wife of then-mayor Jim Crawford), had been collecting ceramic squirrels made from local clay as gifts, and suggested a squirrel mascot in line with Jasper's Jasper the Bear. (Some accounts say Crawford may also have wanted to foster the Edson/Hinton hockey rivalry and quipped, "How about a squirrel, because they think we're all nuts anyway!") Councillors distributed some 400 ceramic squirrels with "Edson" written on them at the convention, and a mascot was born.
The original Eddie was a stocky cement structure with a nut in its paws crafted in the 1980s by Trygve Seland — the artist responsible for about 30 giant monuments in Alberta, including Drumheller's Little Church and Barrhead's Aaron the Blue Heron. McDowell said the first Eddie stood outside the town's chamber of commerce building until it was retired in 2009. The current Eddie was unveiled in 2011 to coincide with the reopening of the Galloway museum.
More than tourism
Big things like Eddie are more than just tourist attractions. They serve as landmarks for navigation, and rally points for local history and pride. The Beaverlodge Beaver commemorates the community's 75th anniversary, for example, while the Glendon Pyrogy (in Pyrogy Park on Pyrogy Drive) recalls the community's deep Ukrainian roots. Edson features a costumed Eddie at community events, such as the annual Eddie's Big Run, and has added squirrels to its coat of arms.
And big things are just fun. Whether it's Chauvin's Susie the Softball or Bow Valley's Pinto McBean, these giant monuments are sure to bring a smile to your face as you drive by.
This content was produced by our St. Albert Gazette newsroom for Passport to Summer 2022 and Great West Media's 2022 Hot Summer Guide.