LAC LA BICHE - Wanna be a race car driver?
All you're going to need is a car with working seat belts, a helmet, some spare time on the Feb. 25 Winter Festival of Speed weekend, a few bucks for a registration fee ... and "The Need For Sp — oh... uhm... wait just a second, you can also be a race-truck driver. So — it's a truck, working seat belts, yadda, yadda yadda... and the Need For Speed." Yep, that sounds about right.
The Edmonton Rally Club will be in Lac La Biche — on Lac La Biche lake — over the Winter Festival of Speed weekend, offering up some tips — and a kilometre-and-a-half track — for local drivers who have the Need for — well you know the rest. The club will oversee timed races where drivers compete against each other and the clock — one racer at a time.
Although you're not door-to-door or bumper to bumper with other racers, club president Darrel Conrod says the adrenaline still pumps as the seconds — and the scenery — race by.
"The maximum speed we'll see on the ice track is about 100 kilometre per hour," said Conrod, who races his 2001 Subaru 2.5RS in club's summer and winter series events "I've been doing it for seven years now, and you can still scare yourself for sure if you go up to the limit."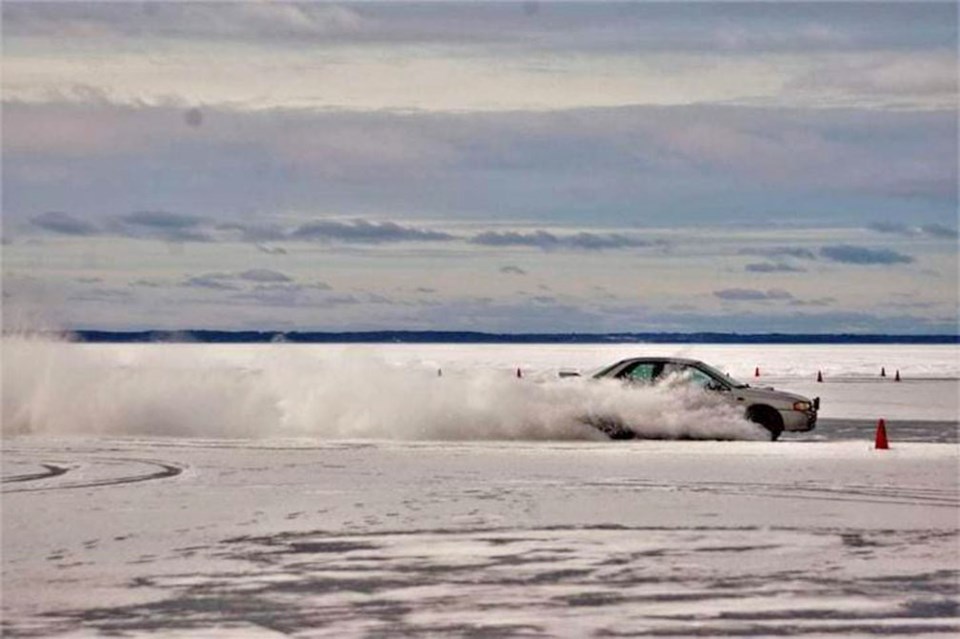 The Edmonton Rally Club has a core of about 20 drivers — who compete in summer and winter races,to be the ponts leader at the end of the year. While there is a core of 20, some race seasons can draw more than 40 drivers into the timed challenges.
The experience levels of those racers — some who have competed at the Canadian Rally Championship level, and others "who rarely took their Toyota Corolla off the pavement" — is what makes the club, and the sport, great, says Conrod.
"It lets everyone who comes out push themselves to their own limits," he said, explaining that events like the one that will be offered on the Lac La Biche ice are often just the beginning for many first-time rally racers. "No one comes across the finish line not smiling."
Conrod says drivers from the club will be in Lac La Biche to give pointers to local drivers. Some might even go for a ride to offer some hands-on lessons.
"We want to show everyone how enjoyable it is. Sure, we're all competitive when we're on the track, but we're also learning from each other," he said, explaining that a literal "learning curve" will hopefully help local drivers on — and off — the track. "You can learn how to be a better driver as well."
Take your seat
For a fee — somewhere in the $80 range — local drivers will be split into two race days, with each day offering a chance to race the timed circuit up to 10 times. The track will have enough curves and challenges to test all levels. The corners may slow down that 100 kilometre top speed, but the fun is in those corners, Conrod said.
"When you are in the car — and even if it's that car you take to work everyday — when you are really pushing it, you can get more sideways than you think you would."
Conrod estimates a decent lap on the kilometre and a half ice circuit should run about 90 seconds.
Before the races, vehicles will get a once-over by officials from the sanctioned race club, and there are a few restrictions — especially when it comes to the trucks.
"We know it is truck country up here ... but ... there's no lift kits allowed, and they can't be taller than they are wide," he said, adding that half-tons are really the size limit. Bigger trucks or dual-axle vehicles end up getting stuck in snow banks and take too much time to pull out.
Vehicles coming to the track with studded tires, must be rolling on DOT-approved studs.
Other than that — "run what you brung," said Conrod with a laugh, explaining that he won the club championship four years ago "in a 300-dollar Honda Civic."
Oh — one last thing. New drivers might come in with that 'Need for — you know what, but it's still racing, and accidents can happen if you're not careful.
"If you're pushing it too far, you can probably expect some snow damage. I mean, the snow is soft, but those banks are pretty sturdy if you hit them. If you're not careful, you can still knock your headlights out."
Information on the Edmonton Rally Club's timed race registration will be available in the next week or so as more details are ironed out. For more details on the Edmonton Rally Club, visit their website.
The Lac La Biche Winter Festival of Speed takes over the Lac La Biche ice on Saturday, February 25, starting two days that include the Western Canadian Ice Racing Championships, snowmobile drag races, an on-ice aircraft fly-in, sleigh rides, kids' activities, concessions, trade fair, displays from the Alberta Trappers' Association, a fundraising charity race, and axe throwing. There will be a per-person or car-load admission price to get onto the ice, with all net proceeds going to local charities.
Over the 40-year history of the Winter Festival of Speed, founding organizer Ken Staples says that more than $250,000 has been given back to local organizations.
Check www.lakelandtoday.ca for more updates on Winter Festival of Speed events.