Tellier Guardian Pharmacy is located on Main Street in Bonnyville, Alberta, and it's so much more than a pharmacy. It's a community hub that is passionate about the care and wellbeing of everyone in the community.
"We are locally operated and very focused on being a unique outlet for the community in terms of health and wellness, and also as a place to shop in rural Alberta," says store operator Caitlin McGrath. "We are fortunate that we have a large front store with cosmetics, clothing, giftware, electronic accessories, and household needs. We also offer the only gourmet coffee bar experience in town. Tellier is dedicated to the community and passionate about giving back to Bonnyville. We want everyone to have a positive shopping experience and safe place to ask health questions and get the best pharmacy care."
Tellier provides many products and services such as discounts every Tuesday for patrons that are 55+ (limitations, such as prescriptions, apply), gift and household items, Western Union money transfers, flu shots, strep throat testing, smoking cessation products, and more.
Tellier Pharmacy is very excited to now offer the community access to the Simpl™ program, which helps ensure customers receive the very best healthcare possible. Caitlin explains: "Simpl™ is proactive and synchronizes all of your prescriptions for pickup at the same time. A pharmacist sits down with you to review all of your medications then monthly phone calls are made ahead of time to discuss the medications needed for the month.  The customer comes in and picks them all up at the same time. It's a departure from the traditional 'walk in and wait' model." She goes on to note that the Simpl™ model shifts the burden of tracking and organizing prescriptions from the patient to the pharmacist, resulting in safer care that is more accurate and very personalized.
In addition to increased interaction and personalization, Simpl™ packaging are used to pre-sort medications, vitamins, and supplements in the way that is the most convenient for the end user. Packaging includes discreet single-use pouches, perforated pods, and booklets. Each option is clearly labelled so it's easy to see what to take, and when. "Best of all, we provide Simpl™ products and services at no extra cost to you!" Caitlin notes.
Simpl™ is for everyone. Caitlin says, "Since care is our main focus at Tellier Guardian Pharmacy, Simpl™ pairs well with our core values. We are excited to offer this program as we always seek to empower our community with organized healthcare."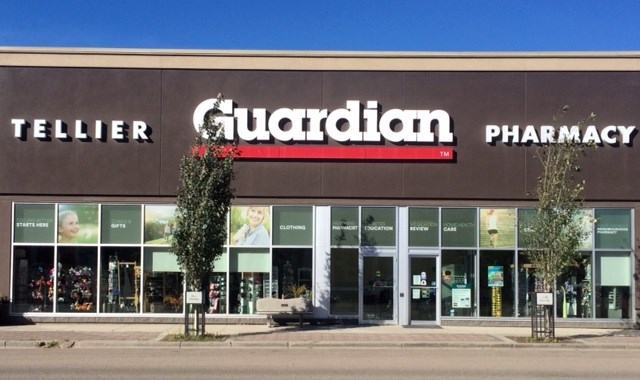 Tellier Pharmacy really does have it all, including a cozy place to sit down, relax, and have a coffee with friends.  The 1929 Coffee Bar is the only sit-down coffee house in Bonnyville. Here is were one can catch up with friends while sipping cold brew, Italian sodas, smoothies, or a Frappuccino.
Tellier's 1929 Coffee Bar has recently partnered with Elevate Coffee Roasters for an exciting contest. The winner gets free coffee for a year. The contest runs from November 15-December 15 and no purchase is necessary to enter. Simply enter in the store or on Tellier's Facebook page. The Facebook page and is also where you can learn more about Simpl™, meet the team via staff profiles, see in-store promotions, and get the latest health news and tips.
Tellier Guardian Pharmacy is open every day except for Christmas and New Years. Every product, promotion, and program is based on the exceptional care the team provides for the community of Bonnyville. Learn more today by visiting tellierpharmacy.ca.